T-9 Specialty Bug Detector
Every order gets free ground shipping (about 3-5 days). 2-day and overnight are available at checkout.
Our entire team is located in Dallas, TX. Get advice and lifetime tech support from our experts.
Discreet billing / shipping
We know you're keeping this a secret. Orders come in a plain envelope or box that can't be traced back to SpyGuy.
Product overview
Finds hidden wireless cameras & mics
Detects frequencies between 50-MHz-6GHz
Audio-assist feature speeds up your search
Rechargeable battery saves you money
Protects your home & business
The Most Used Bug Detector By Investigators
If you're looking for a tried, tested, and approved bug tracker - this is the one. The T-9 has been around for well over 7 years and is a favorite of security professionals. Although technology changes quickly, bug technology is still the same, which means the T-9 can still get it done.
It's an RF detector, which stands for 'radio frequency', and can find most wireless cameras and microphones. It also detects your wireless router and phones, so you'll need to turn those off before you use this detector. The T-9 can detect nearly all wireless bugs.
How To Use It:
The T-9 is able to find both analog and digital bugs, which essentially do the same thing. As it gets closer to finding the bug, the lights get brighter and the device starts vibrating. It also has a great audio assist feature to save you more time - turn it on, and you can hear what the bug hears. That can help pinpoint the room the bug is in.
Private investigators usually have bug detection in their list of services, but it usually costs more to hire an investigator than to get the detector yourself. Our detailed instructions go over the whole process if you're unfamiliar with how it works, or you can email us anytime.
If you need to know more about how wireless bugs work, click the tab above labeled 'How It Works'.
People That Get This:
Work as a private investigator or similar
Want to sweep their offices for bugs
Work for congressmen and senators. and other politicians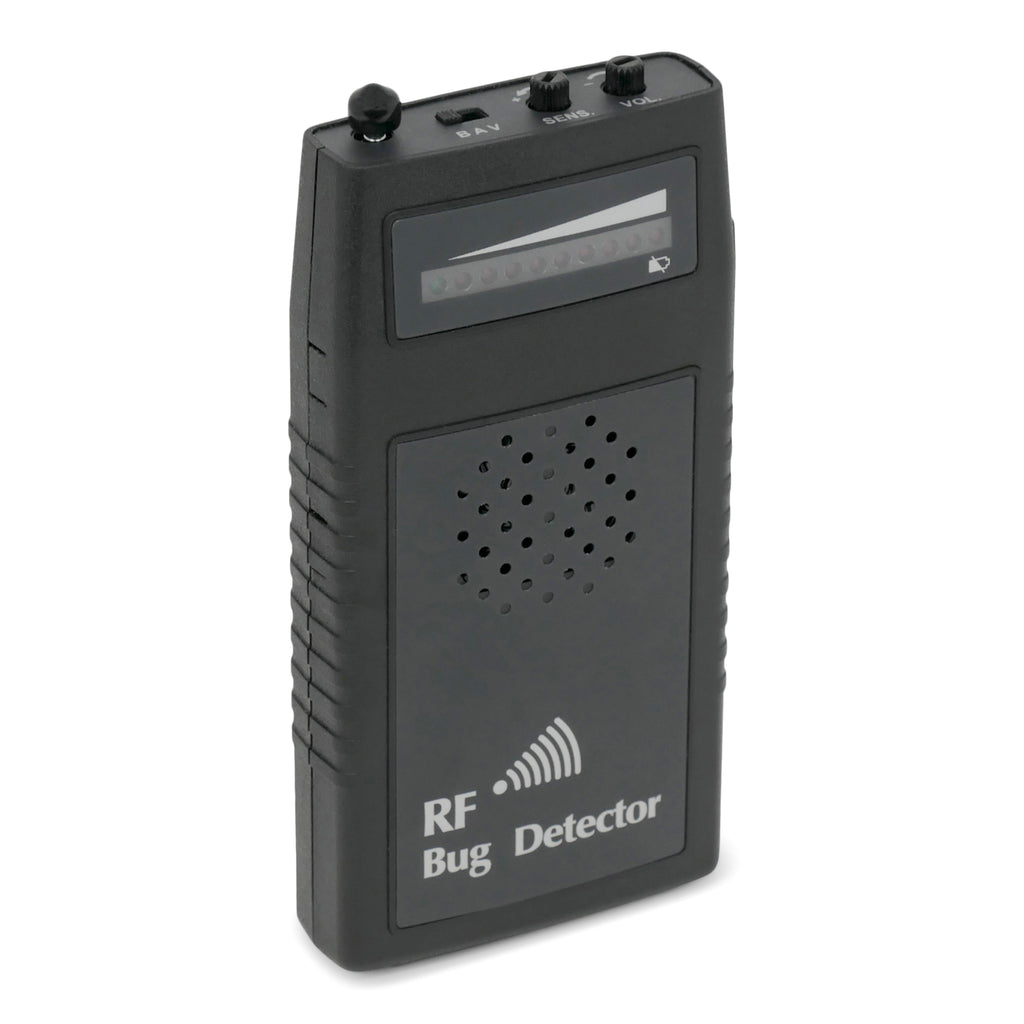 T-9 Specialty Bug Detector
Customer Reviews
Write a Review
Ask a Question
Filter Reviews:
house
signal
peace
mind
anything
experience
items
sensitivity
detector
Works
Good Device
I think this is a good device. I had to play around with it for a little while and adjust the sensitivity, After about thirty minutes I got pretty comfortable using it. You have to be aware of other items that will cause you to get a signal such as wifi signals and even cell phones. I am happy with it so far.
T9 Works!
The T9 hit on several areas within my own apartment. This is with all Wi-Fi, phones, PC, anything that gives off signal turned off or unplug other devices. The T9 WORKS! T-9 sniffed out the devices that we didn't know about. Mind blown! High Five!
T-9 worked well.
It worked as advertised.
Bug detector
Arrived on time. Works like they say it does. Would recommend spyguy to everyone.
Excellent
Works great no complaints good product all around.
Great product
Once I figured out the sensitivity it was great. Gave me peace of mind
Excellent product
I used it successfully on a detail to check cars and a house. It was easy to use and it accomplished the objective. Thsnks
Surprise
Works as described.
Ring Detector
Customer service was helpful and immediate. I'm satisfied with the service and the device. I'm not happy with how far away I can be photographed and recorded. I wouldn't have know without the detector.
undecided
Seemed to work well, but experience is needed i believe...