Mini Travel Alarm Camera
Every order gets free ground shipping (about 3-5 days). 2-day and overnight are available at checkout.
Our entire team is located in Dallas, TX. Get advice and lifetime tech support from our experts.
Discreet billing / shipping
We know you're keeping this a secret. Orders come in a plain envelope or box that can't be traced back to SpyGuy.
Product overview
The perfect hidden camera for when you travel
Records video at a 1920x1080 resolution
Motion detection or constant recording option
Battery lasts 8 hours during day or 3 hours with nightvision
WiFi Enabled - stream live video anywhere in the world
View the saved footage using your computer
Eyes For When You Aren't There
Do you need to know what's happening when you aren't around? Are you feeling like someone isn't being entirely truthful? Would video evidence solve the problems that you can't get an answer to?
Hidden cameras get concrete proof of what's going on when you can't be there. They're also easier to use and more affordable than ever before - you only need to set the camera where you want it.
If you think or already know that something's already taking place, you need to do something about it now rather than later. If your suspicions are correct, the problem is likely costing you money, your property, and your safety.
Watch From Anywhere in the World
This camera is Wi-Fi enabled, which means you can watch the camera live from anywhere in the world over the internet. If you're traveling and worried about what's going on back home, or in your hotel room, you can view live footage through your internet browser or with a smartphone app.
All videos are date & time stamped so you know exactly when they happened. When the movement stops, the video is saved to a memory card - this is a standard SD card used by all digital cameras. 1 GB of memory holds about 40 minutes of video, and the camera can use memory cards up to 128 GB.
To view the recorded footage, remove the memory card - it's hidden behind a trap door. Plug that card into your PC using the adapter that comes in the box, and then play the video on your PC. It's simple to use, and detailed instructions come with it.
Help When You Need It
We know you've never used a hidden camera before, and that you want to have a hassle-free experience when it comes to using a hidden camera.
Because of that, all our spy cameras come with a 1-year warranty, free ground shipping, & free lifetime tech support - just get in touch with us if you have any questions.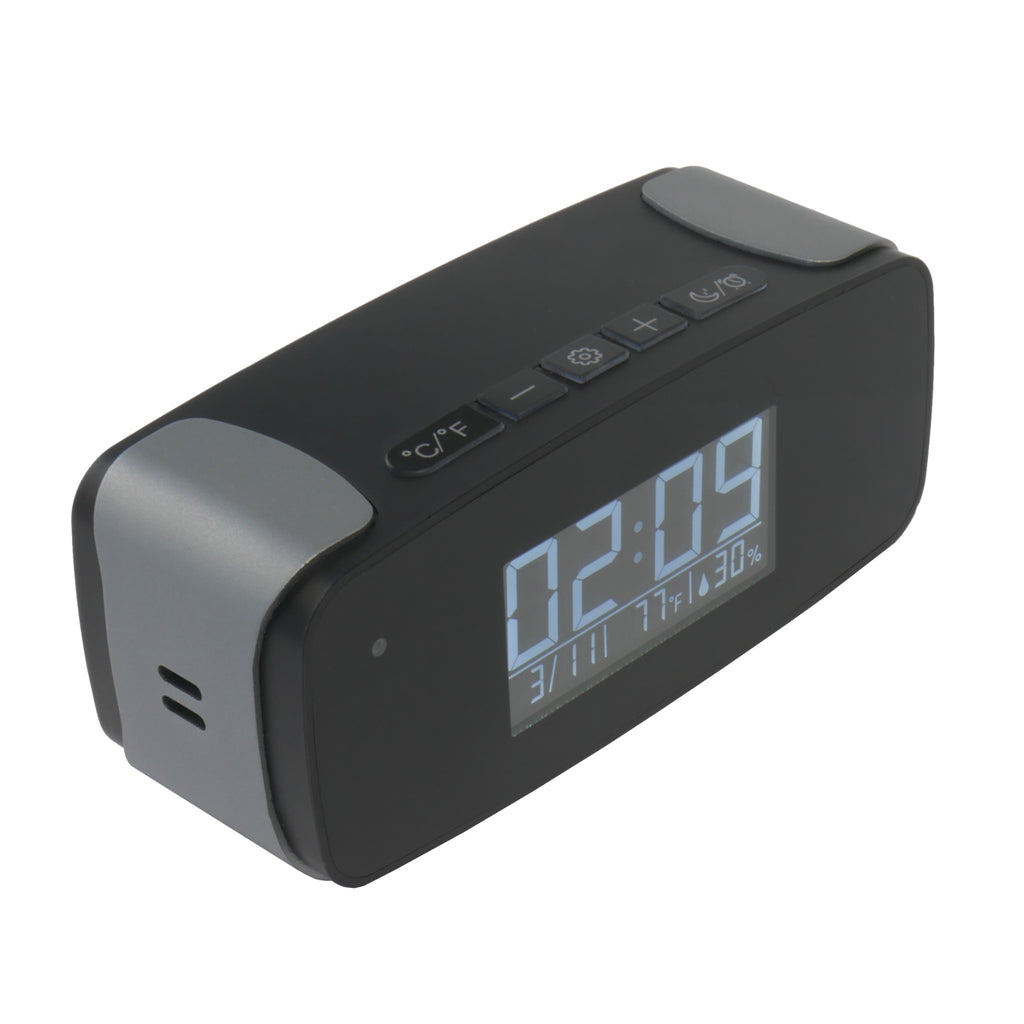 Mini Travel Alarm Camera
Customer Reviews
Write a Review
Ask a Question
Filter Reviews:
camera
alarm clock
recording option
home
security
sound
setup
Awesome Camera
Easy setup and it works perfect as an alarm clock too. Camera is clear and sound is great. I've had other cameras that light up when they are recording but this is truly a nice spy camera that I use for security when I'm not home.
Great but could be better!
Great product that came ready to use and very discreet. Got the information I need to find out sadly, but the product did its job. Wish that you could view the camera remotely from the app without being on wifi. The signal cuts out when you get too far away from the product. I also wish the product came with an SD card so that you did not have to buy one, but they are very cheap, and you can purchase them just about anywhere. Overall amazing product. Hope I will never have to use again, but glad I have it for security.
Very clear vision
the camera is super clear even at night and has a recording option, so this is definitely a good item to pick up.
Stay away
Does not work they make you purchase your own tf card after charging hundreds for the product..do no buy!
Hi Kyle, MicroSD cards are pretty inexpensive and common so rather than charge you for one, we let you bring your own to use with the camera. Also, the product is under $100, so I'm not sure why you're saying we charge hundreds for it. I've reached out an a separate email to help if you like, please respond at your convenience. Thanks! Allen, CEO at Spy Guy
Mini Travel Alarm Camera
Good product!
Mini Travel Alarm Camera
Works perfectly!
Mini Travel Alarm Camera
The manual looks like it's been modified because it's not as bad as one of the other reviews said. Came in a thick padded envelope with no markings or company names on it, was very nervous about this. No joke, the buttons make very loud sounds when pressed, so don't do that. It works as advertised but it's definitely not the easiest in the world.
Mini Travel Alarm Camera
I have only had the camera for a while, but its motion sensors aren't the best. I also have had trouble getting my computer to recognize the camera when it is plugged in. I just keep unplugging it and trying again and eventually it works. It is easier to use the microSD card in a SD adapter plugged directly into the computer. I was surprised that the camera plays a very loud and long song whenever it is plugged in to charge, and so far I can't figure out a way to get it to stop. The picture quality is good, and I like the rechargeable battery, it makes it easy to use.
Mini Travel Alarm Camera
It makes super loud noises whenever you hit any of the buttons on the camera. The manual is not clear at all, and I can't stress enuogh how loud and annoying the buttons are. The picture's good and the battery actually lasts longer than advertised This is definitely made in China, but for around a hundred bucks you get what you pay for.