HD Spy Pen Plus 8GB
Every order gets free ground shipping (about 3-5 days). 2-day and overnight are available at checkout.
Our entire team is located in Dallas, TX. Get advice and lifetime tech support from our experts.
Discreet billing / shipping
We know you're keeping this a secret. Orders come in a plain envelope or box that can't be traced back to SpyGuy.
Product overview
The essential James Bond spy pen
1260 x 960 resolution video @ 30FPS
Rechargeable battery lasts 1 hour
8GB built-in, no memory card needed
Only one button to record your video
View the video using your computer
The Classic Spy Pen Has Evolved
Spy pens have been around for a long time, but they haven't exactly been the easiest hidden camera to use. A little over 5 years ago, most undercover officers used pen cameras that had wires running down their shirt to hook them up to a video recorder or a battery pack.
Our spy pen is an all-in-one unit that only has 1 button that does it all. You can record your hi-res videos with sound, or takes 2 megapixel pictures with just the click of a button. The battery pack lasts about 1 hour, which is enough time to record any meetings or other encounters you want to save.
Made To Be As Simple As Possible
It'll take you less than 5 minutes to learn how to to use this pen. Clip it to your jeans or in a jacket pocket (only the pinhole needs to see), or even write with it in your hand. Press the button on top to start recording, hit it again to stop, and then plug it into your computer to see your footage.
The pen unscrews halfway down the middle, revealing a USB port. Use the included cable to charge the battery and connect to your PC or Mac. You can watch the saved videos on your computer screen, save them to your desktop, or even upload it to YouTube for the next viral video.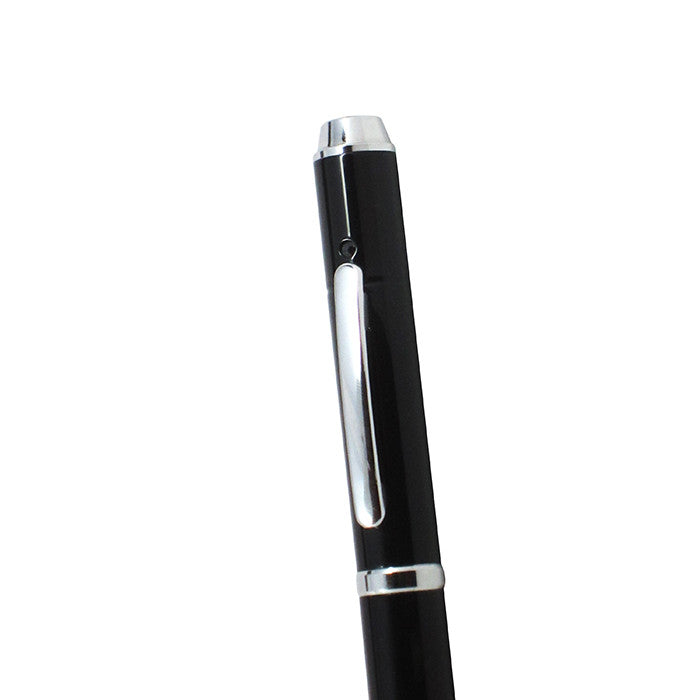 HD Spy Pen Plus 8GB
Customer Reviews
Write a Review
Ask a Question
Filter Reviews:
experience
audio
baby
deal
Works
video
picture
Work place harassment
This little baby sealed the deal. Thank you so very much
Spy Pen Review
It has been a good experience so far. It looks like the video is fairly clear and the audio seems to be pretty good. We like it so far.
Spy pen
It's works. Just don't like that I don't know when it is actually recording. The picture is pretty cleared as well as the audio. For the price it's worth it.
Good
Did the job as expected.
spy pen
Awesome. Works really well.
HD pen
Experience very good.
Great undercover camera
Easy setup and easy recording.
Its okay
The picture is really clear but I must have missed the part where it only records for 2 hours
Spy pen
Good overall experience. Not as clear as I hoped, works well though.
Wow
This is great very easy to use i love it picture clear excellent sound.if u looking for a good recorder pen i highly recommend