iPhone Case Hidden Camera - HD, WiFi, Battery
Every order gets free ground shipping (about 3-5 days). 2-day and overnight are available at checkout.
Our entire team is located in Dallas, TX. Get advice and lifetime tech support from our experts.
Discreet billing / shipping
We know you're keeping this a secret. Orders come in a plain envelope or box that can't be traced back to SpyGuy.
Product overview
A tiny spy camera inside an iPhone 6 & 7 case/battery
Records crisp, HD video at 1080p resolution
Only records when motion takes place
3-hour rechargeable battery built-in
Watch the saved footage using your Mac or PC
Eyes For When You Aren't There
Do you need to know what's happening when you aren't around? Are you feeling like someone isn't being entirely truthful? Would video evidence solve the problems that you can't get an answer to?
Hidden cameras get concrete proof of what's going on when you can't be there. They're also easier to use and more affordable than ever before - you only need to set the camera where you want it.
If you think or already know that something's already taking place, you need to do something about it now rather than later. If your suspicions are correct, the problem is likely costing you money, your property, and your safety.
Plug & Play Operation - No Experience Necessary
Our spy cameras work like any regular camera - the only difference is that we hide it inside a working object. The iPhone case camera records clear, motion-activated video and can sense movement at any distance. When it does detect motion, it starts recording a new video.
All videos are date & time stamped so you know exactly when they happened. When the movement stops, the video is saved to a memory card - this is a standard SD card used by all digital cameras. If the camera records 4 hours of video per day, you can get up to 32 days worth of video on a 32GB SD card.
To view the recorded footage, remove the memory card - it's hidden behind a trap door. Plug that card into your PC using the adapter that comes in the box, and then play the video on your PC. It's simple to use, and detailed instructions come with it.
Help When You Need It
We know you've never used a hidden camera before, and that you want to have a hassle-free experience when it comes to using a hidden camera.
Because of that, all our spy cameras come with a 1-year warranty, free ground shipping, & free lifetime tech support - just get in touch with us if you have any questions.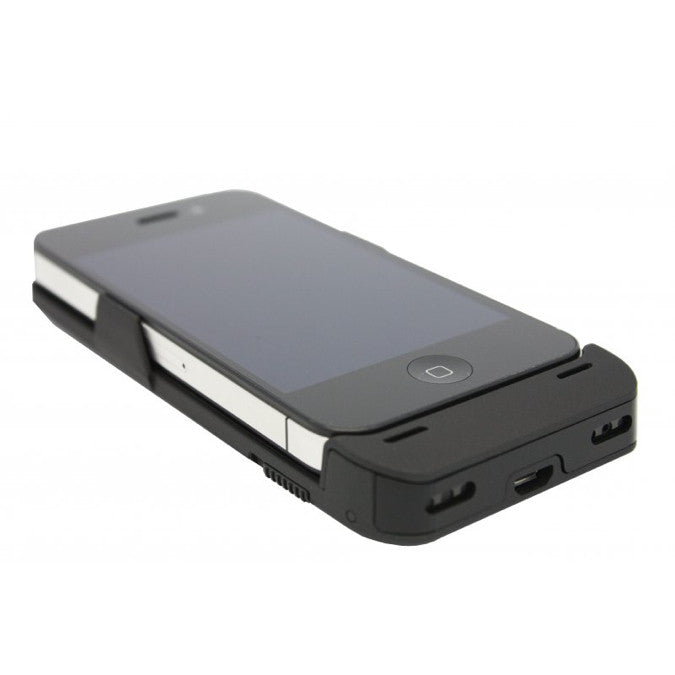 iPhone Case Hidden Camera - HD, ...
Customer Reviews
Write a Review
Ask a Question
iPhone Battery Case Hidden Camera
Great product! You wouldn't thought that there is camera hidden in the case. Easy to use, 100% recommended.
iPhone Battery Case Hidden Camera
Oh,it is very good thank you
iPhone Battery Case Hidden Camera
Sent it back because the 6 doesn't fit in it
iPhone Battery Case Hidden Camera
Excellent bodyworn camera. Doesn't look out of place, and the camera stays steady the entire time. No software needed, either. Came in a plain box upon delivery.
iPhone Battery Case Hidden Camera
I just set it on the table whenever it comes time to record something discreetly. Just plug it into my laptop whenever I need to save what was recorded. Since it's hooked up to my phone nobody even noticed.