Smoke Detector Hidden Camera - 1080p, Battery, WiFi, Night Vision
Every order gets free ground shipping (about 3-5 days). 2-day and overnight are available at checkout.
Our entire team is located in Dallas, TX. Get advice and lifetime tech support from our experts.
Discreet billing / shipping
We know you're keeping this a secret. Orders come in a plain envelope or box that can't be traced back to SpyGuy.
Product overview
A tiny spy camera inside an everyday smoke detector
Use velcro to mount it on the corner of a ceiling
Records clear video at 1080p resolution
Only records when motion takes place
Battery lasts up to 6-8 months in standby mode
View the saved footage using your PC
Night-vision can see 16 ft in total darkness
Eyes For When You Aren't There
Do you need to know what's happening when you aren't around? Are you feeling like someone isn't being entirely truthful? Would video evidence solve the problems that you can't get an answer to?
Hidden cameras get concrete proof of what's going on when you can't be there. They're also easier to use and more affordable than ever before - you only need to set the camera where you want it.
If you think or already know that something's already taking place, you need to do something about it now rather than later. If your suspicions are correct, the problem is likely costing you money, your property, and your safety.
Plug & Play Operation - No Experience Necessary
Our spy cameras work like any regular camera - the only difference is that we hide it inside a working object. The smoke detector camera records clear, motion-activated video and can sense movement at any distance. When it does detect motion, it starts recording a new video.
All videos are date & time stamped so you know exactly when they happened. When the movement stops, the video is saved to a memory card - this is a standard SD card used by all digital cameras. If the camera records 4 hours of video per day, you can get up to 5 days worth of video on a 32GB SD card.
This model has a rechargeable battery built inside, rather than plugging into the wall. The battery can be in standby mode for up to 6-8 months, meaning that it barely uses battery life if it isn't recording.
To view the recorded footage, remove the memory card - it's hidden behind a trap door. Plug that card into your PC using the adapter that comes in the box, and then play the video on your PC. It's simple to use, and detailed instructions come with it.
Help When You Need It
We know you've never used a hidden camera before, and that you want to have a hassle-free experience when it comes to using a hidden camera.
Because of that, all our spy cameras come with a 1-year warranty, free ground shipping, & free lifetime tech support - just get in touch with us if you have any questions.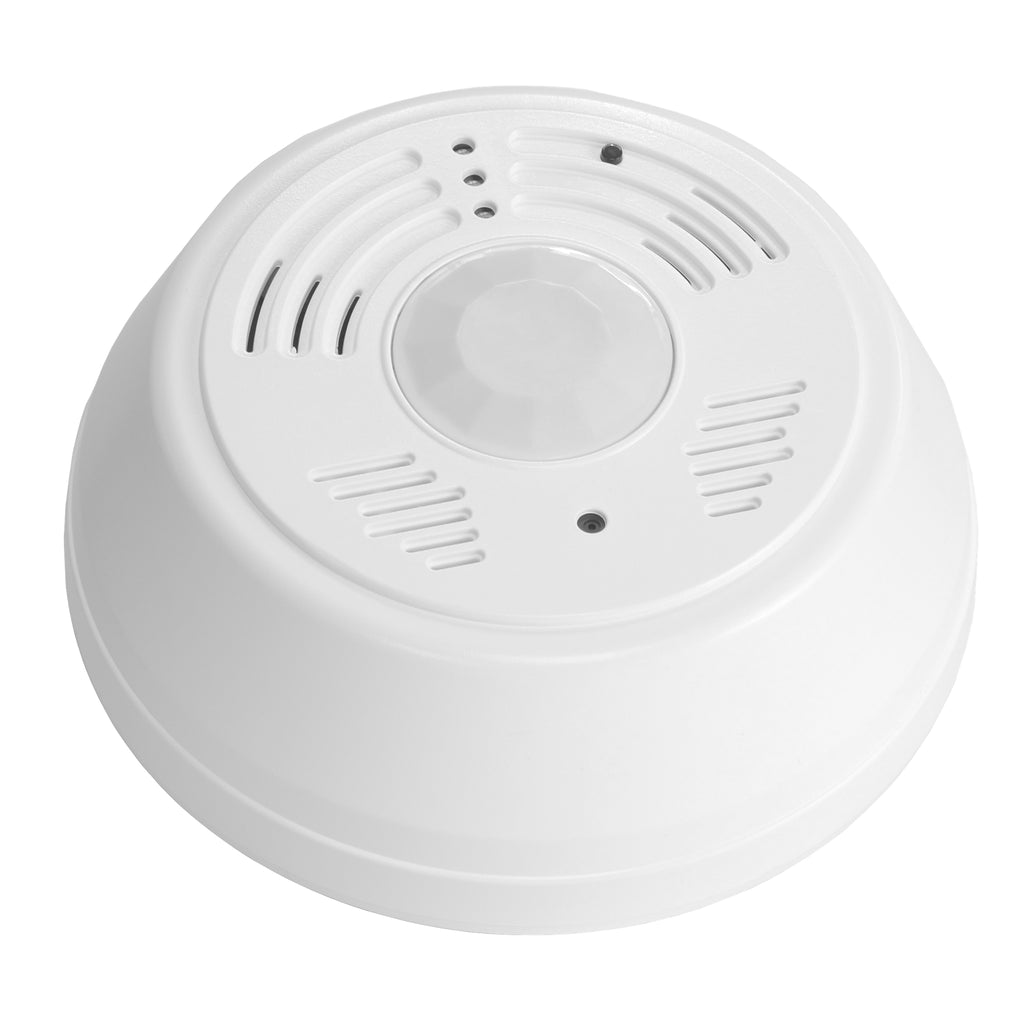 Smoke Detector Hidden Camera - 1...
Customer Reviews
Write a Review
Ask a Question
Filter Reviews:
entry
detection scheduling
corner
smoke detector
setting
camera
trouble
concept
room
sight
smoke detector hidden camera***awesome**
The camera works as it says it should. I found the setting of the time a bit confusing but figured it out. Works great! I also had trouble setting up detection scheduling. I understand the concept but am not sure of the proper entry and how that works. Overall am very happy with the product.
Super easy to install
Great! Super easy to install & to use
Smoke Detector Hidden Camera
Havnt open product.Looks like same one I bought from a different company but they say it is not
Smoke Detector Hidden Camera
Great presale and postsale support - Accurate info and quality product!
Smoke Detector Hidden Camera
Works great!!! Thanks for the great service
Smoke Detector Hidden Camera
Pros: Decent quality camera. Effective in recording. It is a complete system. The videos are recorded to an onboard chip, as opposed to having to wire it to a recording device and it has IR capability. The instructions on the CD are not hard to follow, and I like the CD delivery medium. The setup menu is simple and reasonably easy to follow. Fast response from the distributor to all inquiries. Cons: Very expensive; about twice what I would expect. Camera has a somewhat narrow field of view vertically. The kit lacks the little things, such as mounting screws or a mounting plate. Camera has to be taken down to charge the battery or opened and the battery removed. The battery is secured by Velcro straps, so it is not the easiest process. Could not find the ability to purchase a spare battery, so batteries could be quickly rotated. And with no mounting plate, when it is removed one cannot be assured that it has been aimed the same way. I went ahead and gave it 4 stars, because the device itself does serve its purpose, the instructions are good, and the overall design is good.
Smoke Detector Hidden Camera
Thank you
Smoke Detector Hidden Camera
Works great pleased with all features
Smoke Detector Hidden Camera
We purchased 2, they work great, easy to hide and real clarity in play back. Thanks.
Smoke Detector Hidden Camera
We caught some one breaking into our laundry machine quality goes way down in night vision mode. The sensor was a little slow to register but we did get a good enough picture of the their to turn into police